So I mentioned in my last post that I felt a certain obligation to find the connection between my family and the DNA cousin who contacted me who is adopted & looking for his biological family. I get to work today and there is an email on a librarian genealogy listserv where a colleague is requesting advice & information on conducting a genealogy class for adoptees.
Coincidence . . . I think
not.
In a response someone suggested the book
Finding Family: My Search for Roots and the Secrets in My DNA
by Richard Hill (which has great reviews -- can't wait to read it!) and looking at blogs like
Adoption and DNA
.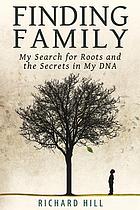 "

Richard

Hill

's true and intensely personal story of how he pieced together the long-kept secret of his own origins. This highly suspenseful book is a page-turning saga of personal detective work that will appeal to anyone who loves a good mystery. But this isn't fiction. It's an engrossing account of an adoptee trying to reclaim the biological

family

denied him by sealed birth records. This fascinating quest, including the author's landmark use of DNA testing, takes readers on an exhilarating roller-coaster ride and concludes with a twist that rivals anything Hollywood has to offer."--back cover.